Stanley Franklin 1930–2022
Artery Research volume 29, pages 4–5 (2023)
1220 Accesses

5 Altmetric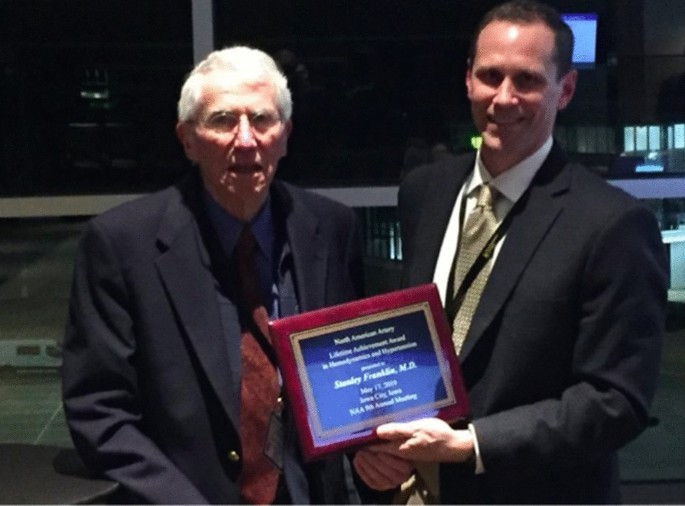 Stanley Franklin receiving the North American Artery Lifetime Achievement Award in 2019
On behalf of the Artery Society, it is with great sadness that we report the death of Stanley Franklin at the age of 91 years, and our deepest sympathies go out to his wife, Ruth, and family.
Stan was a Gentle Giant with a charming and unassuming manner and was always happy to interact with his peers and young investigators alike, who all held him in great esteem. He received a BA degree in biology and chemistry Summa Cum Laude from the University of California at Los Angeles, his M.D. degree from Harvard Medical School, and did his post-graduate training in nephrology at Peter Bent Brigham in Boston and in clinical pharmacology at Royal Postgraduate Medical School in London. He served his country as a captain in the U.S. Air Force Medical Corps, in Wiesbaden, Germany, from 1959 to 1961. He had a long-term affiliation with UCLA Medical School and Cedars-Sinai Medical Center as a practicing nephrologist from 1963 to 1991.
Unlike many of his peers, Stan started his true academic career late in life. Through his collaborations with investigators at the Framingham Heart Study, he gained experience in epidemiology and statistics. That collaboration resulted in his many seminal publications, based on data from the Framingham study, which examined the contribution of individual components of blood pressure to cardiovascular disease risk and how these relations change with advancing age. Many of these studies have had a major impact on the diagnosis and treatment of hypertension and were published when Stan was in his 70s and beyond…!
Stan was a great supporter of ARTERY and attended many of our early meetings, often accompanied by his charming wife, Ruth. At the ARTERY 9 meeting held in Cambridge, England in 2009, Stan gave the McDonald Lecture on "Isolated systolic blood pressure and the diastolic J-curve of cardiovascular disease risk." Stan was subsequently awarded the Lifetime Achievement award at ARTERY 13 in London in 2013. While Stan continued to support ARTERY, he also played a major role in establishing our sister Society, North American Artery, which awarded him a second well-deserved Lifetime Achievement Award in 2019.
Although Stan will be greatly missed, he will not be forgotten, as figures from many of his seminal papers will be shown by academics in their presentations at meetings around the world for many years to come.
Professor John R Cockcroft
Professor Gary F Mitchell
Ethics declarations
Conflict of interest
The authors have no other competing interests.
Consent for publication
Written consent was obtained from Professor Franklin's next of kin to publish the image.
Additional information
Professor John R Cockcroft is Editor-in-Chief of Artery Research.
Rights and permissions
Open Access This article is licensed under a Creative Commons Attribution 4.0 International License, which permits use, sharing, adaptation, distribution and reproduction in any medium or format, as long as you give appropriate credit to the original author(s) and the source, provide a link to the Creative Commons licence, and indicate if changes were made. The images or other third party material in this article are included in the article's Creative Commons licence, unless indicated otherwise in a credit line to the material. If material is not included in the article's Creative Commons licence and your intended use is not permitted by statutory regulation or exceeds the permitted use, you will need to obtain permission directly from the copyright holder. To view a copy of this licence, visit http://creativecommons.org/licenses/by/4.0/.
About this article
Cite this article
Cockcroft, J.R., Mitchell, G.F. Stanley Franklin 1930–2022. Artery Res 29, 4–5 (2023). https://doi.org/10.1007/s44200-022-00025-x
Published:

Issue Date:

DOI: https://doi.org/10.1007/s44200-022-00025-x